Meet Michael

Welcome to the Michael's Automotive Website! I have worked in the automotive repair industry for the past 29 years. When I started my own business in 1991, I felt strongly that I wanted to take the worry out of auto repair by providing my customers with honest, high quality service at competitive prices.

To provide the best service, my staff is trained in and committed to using the latest in automotive technology to service your vehicle. We feel that through our expert, comprehensive diagnostic services and direct, personal communication, you will be able to make sound, informed decisions to keep your vehicle in safe, good working order.

If our approach to business sounds straight forward….that's because it is. Taking your vehicle in for repair should be a positive, uncomplicated experience.
Through regular maintenance you will save dollars in the long run. We are dedicated to make sure you are 100 percent satisfied and offer a one-year warranty on all service.
If you have any questions about Michael's Automotive Services please Contact Me or call me directly at 325-4557.

Thank you for your business.
Michael Lanzillo


Owner

Michael Lanzillo has more than 29 years in the automotive repair and service business. Michael received an A.S. Degree from Monroe Community College's Automotive Technology Program. He is an ASE (Automotive Service of Excellence) Certified Technician. To keep informed of the latest in electrical and computer systems technology, Michael participates in the latest training from GM, Bosch, and AC Delco. He also takes ongoing training in the areas of Asian and European fuel and electrical systems and anti-lock brake systems.

Our Team
Chris

Michael

Dwayne "Zonk"
The Michael's Automotive team has 60 years combined experience in automotive repair field. As ASE Certified Technicians, their number one priority is to make sure your automotive service and maintenance needs are met. They won't rest until you are 100 percent satisfied. The staff at Michael's prides itself in maintaining direct, honest, open communication with you when your vehicle is in for service….taking the worry out of automotive repair!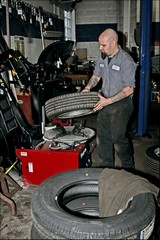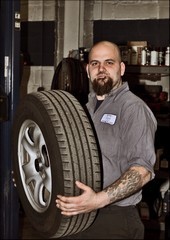 Our Shop

We are a family oriented shop. Besides the owner of the Company, the staff includes two technicians, a service advisor and an office administrator. Hours of operation are 7:30 am to 5:00 pm Mon-Fri. We are located at 453 State Street corner of Jay Street.
Some of the equipment used in the shop includes a Snap-On MT2500 Graphing scanner, Baum Tools European scanner, Ross-Tech VW Audi scanner, Mitchell On-Demand and AllData Information Systems, and Identifix Online.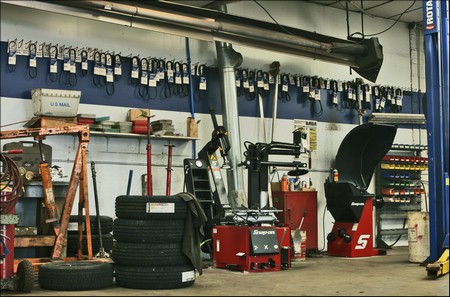 Auto Body Shop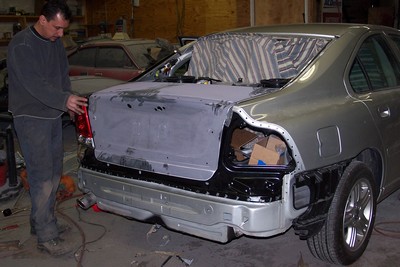 Our History

For the past 18 years, Michael's Automotive has been providing high quality service at competitive prices to the greater Rochester Area community. Michael opened his shop at 70 Frankfort Street in downtown Rochester (next to Kodak headquarters) with one auto service bay in March of 1991. Since that time, the business has expanded to include four employees and 11 auto service bays. In 2005, Michael expanded his existing location and opened a new shop front that faces State Street in Rochester. The new space includes additional service bays, an improved customer waiting area, easier building access and parking facilities. At Michael's a wide range of services are offered to customers including New York State Inspections, alignments, computer diagnostics, and a new, professional doll-up service to name a few.

Everyone at Michael's is committed to provide customers with high quality services. Also, committed to a clean environment, Michaels Automotive staff collects and recycles all waste fluids. All fluids used at the shop are environmentally friendly. Each year, Michael holds a customer appreciation party to thank his loyal customers. It's a great time to catch up on all the latest services Michael's Automotive Tech Center has to offer to service your vehicle.

Annual Christmas Party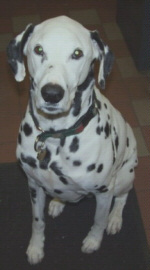 Our Future
Michael's Auto Tech Center, along with the community of Rochester NY, is prepared for growth. The business is built around the premise that our goals will be achieved by providing quality work, strong marketing, and most importantly, treating our staff, and our customers with respect and courtesy.
Why You Should Use Michael's Automotive

· Why pay dealer prices? We are an alternative repair facility for manufactured vehicle warranty service.
· High quality workmanship using the latest technology.
· ASE Certified Technicians.
· Exceptional customer service.
· 1 year warranty on service. Warranty is limited to reimbursement up to amount of original repair
· Premium parts.
· Extended warranties honored.
· Environmentally friendly workplace.
· Centrally located to City of Rochester and surrounding communities.
· AC Delco, BOSCH authorized repair facility.
· No repair ever made without your authorization.
· Fair and Honest.